Ocu-GLO Human Vision Formula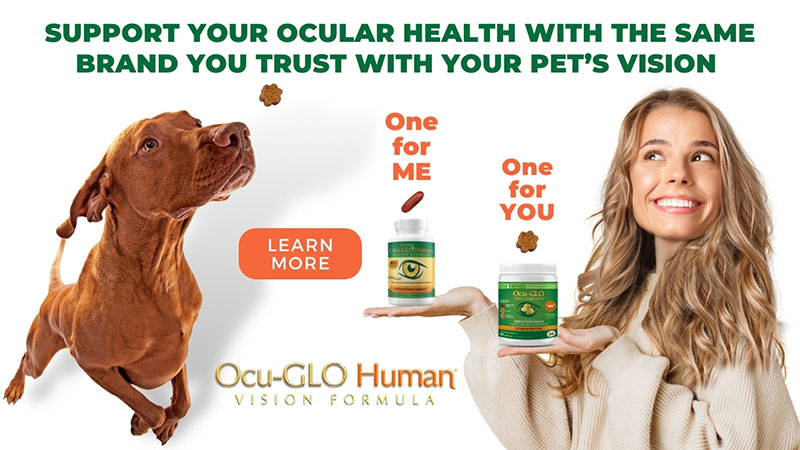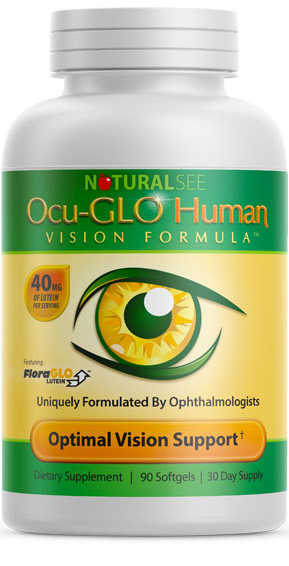 Ocu-GLO® Human Vision Formula is a blend of
antioxidants that were specifically chosen to synergistically support the health of the human eye. This formula was designed based on research data from the Age-Related Eye Disease Studies (i.e. ARED studies I and II). The ARED studies are major clinical trials sponsored by the National Eye Institute to identify the leading causes of vision loss in older humans.
Based on the published results of the ARED's studies, as well as a plethora of clinical and basic ophthalmic research, the Board Certified Ophthalmologists behind the worldwide best selling vision supplement Ocu-GLO®, developed Ocu-GLO® Human Vision Formula. This unique combination of ingredients may benefit your ocular health in these important ways:
Helps maintain normal eye function and health
Helps maintain ocular integrity and structure
Helps support capillary health in the eye
Promotes long-term ocular health
This is based on both clinical experience and research findings over the past 8 years.
Purest Ingredients
Ocu-GLO® Human Vision Formula includes only the purest ingredients including FloraGLO® lutein, which is the world's leading lutein sourced from marigold flowers. Ocu-GLO® Human Vision Formula is GMP-certified, meaning that it is manufactured in a GMP-certified U.S. facility and contains only pharmaceutical-grade ingredients.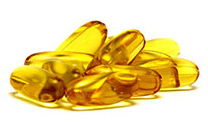 Omega-3 Fish Oil
Essential fatty acids that cannot by synthesized in the body. Contains docosahexaenoic acid (DHA), an essential fatty acid that supports retinal health.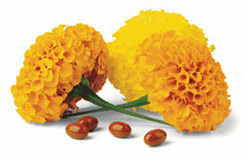 FloraGLO® Lutein
Carotenoid antioxidants necessary for protection of the retina and lens.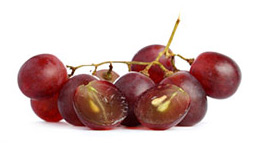 Grape Seed Extract
Rich in proanthocyanidins which are antioxidants, free radical scavengers, have anti-inflammatory properties.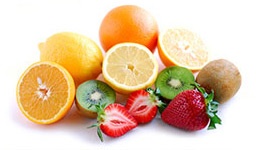 Vitamins C and E, with Zinc
High levels of vitamins C, E, Zinc promotes healthy vision development.
Protect Your Eyes From Damaging UV and Blue Light!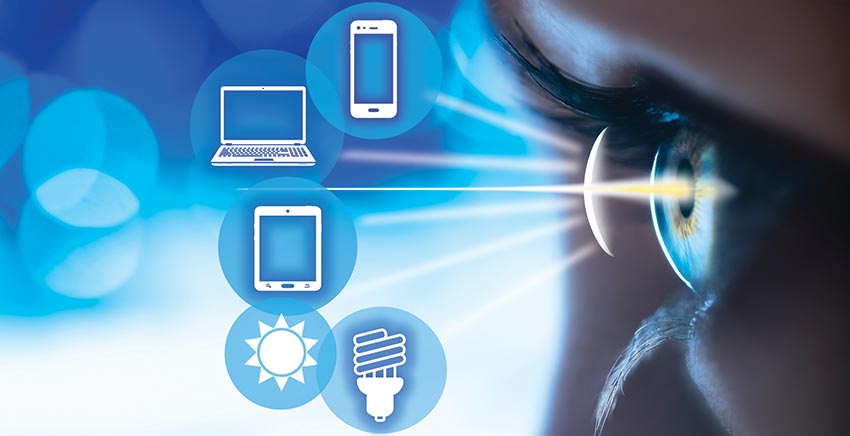 What is Digital Eye Strain?
Now more than ever, we are exposed to more blue light due to our increased reliance on technology for all types of communication, including work and school.

Blue light emitted from TVs, tablets, computers, and smartphones can cause digital strain to the eyes.

Digital strain results in harmful oxidative stress to the lens and photoreceptors of the retina.

Ocu-GLO® Human Vision Supplement taken daily provides support against blue light and digital eye strain, as well as an oral sunscreen for your eyes and skin.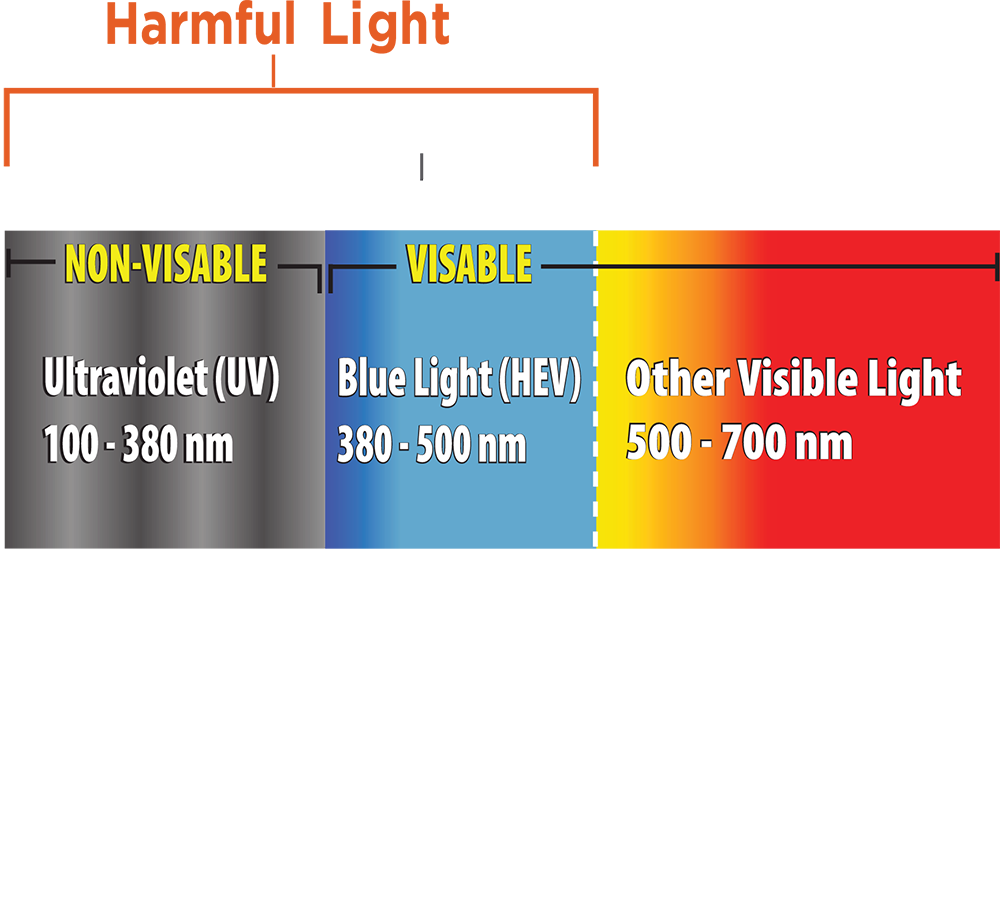 Sunscreen for our Eyes
Why do our eyes need filters to block blue light and UV light emitted from the sun?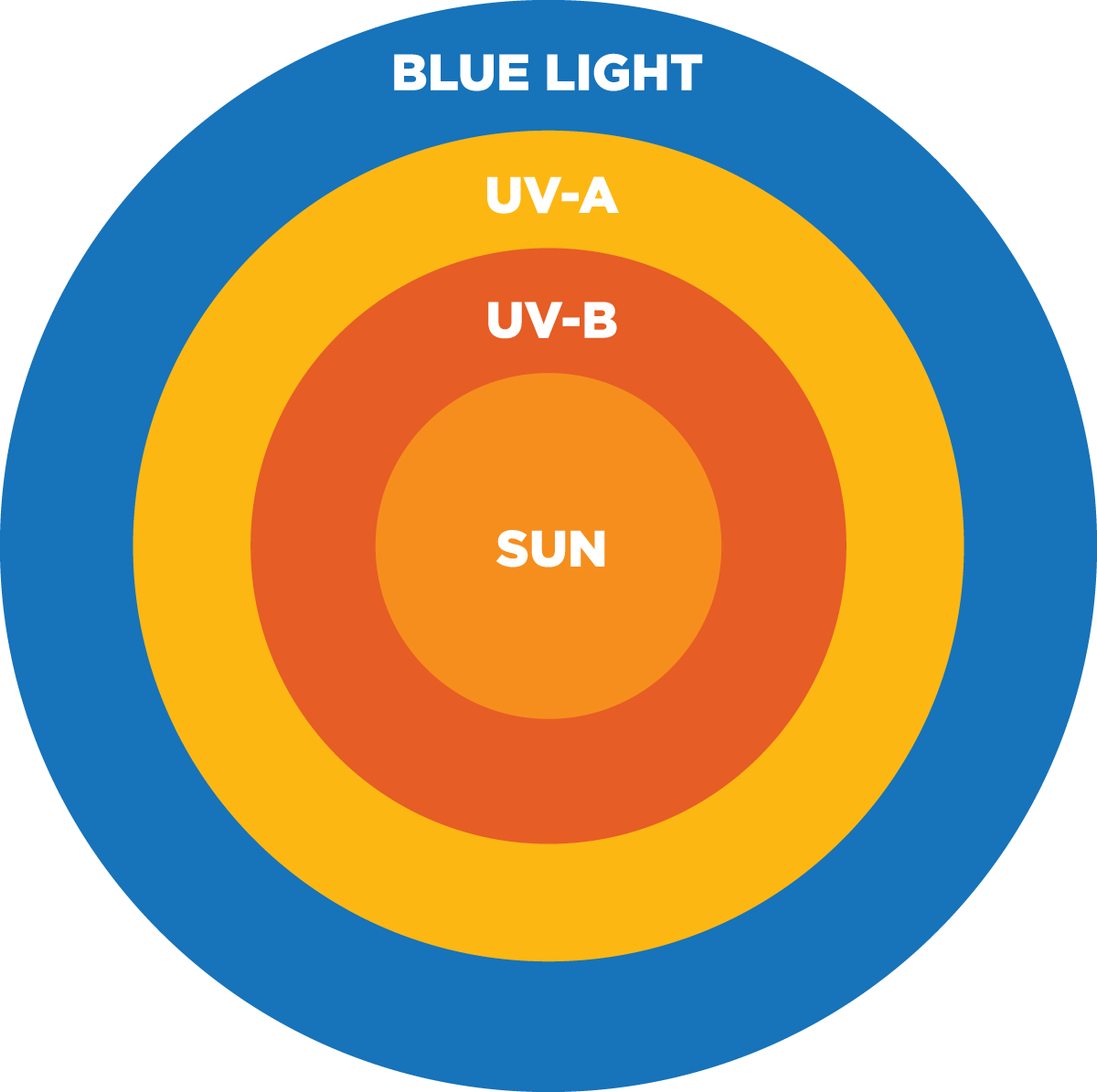 UV-B rays penetrate the first layer of the skin (epidermis) and reach the cornea in the eye.
UV-A rays penetrate deeper to reach the second layer of the skin (dermis) and also reach the lens and retina in the eye.
Blue light rays penetrate the deepest, through all layers of the skin, and also reach the lens and retina.
The sun is a source of blue light and invisible ultraviolet (UV) light, emitting harmful high-energy radiation that may result in ocular disease such as cataracts and AMD, as well as sunburn, skin cancer and other conditions relating to cellular damage.
Ocu-GLO® Human Vision Formula provides nature's antioxidant "sunscreen" for your eyes and skin.
Why This Product Is Different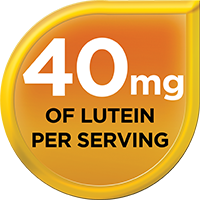 Ocu-GLO® Human Vision Formula is different from the popular vision supplements commonly found on drugstore shelves. Humans need much more lutein than these supplements contain. Aging decreases absorption of nutrients, and therefore humans need higher doses of a variety of antioxidants over time. In fact, humans need higher amounts of all nutrients and antioxidants than what is contained in most human vision supplements—not just lutein. Natural SEE has created Ocu-GLO® Human Vision Formula with this in mind – to help everyone receive the best blend and dosages of the highest quality ingredients to help support their eye health.
Supplement Facts
Serving Size: 3 Capsules
Servings Per Container: 30 Servings
Supplement Ingredients
Vitamin C (as Pureway-C)
500 mg
Vitamin E (as d-alpha Tocopheryl Succinate)
268 mg
Folate
167 mcg DFE
Biotin
30 mcg
Zinc (as Zinc Oxide)
25 mg
Copper (as Cupric Oxide)
2 mg
Lutein (as 20% FloraGLO®)
40 mg
Omega 3 Fish Oil 30%
Providing:
EPA (as Eicosapentaenoic Acid) . . . 45 mg
DHA (as Docosahexaenoic Acid). . . 45 mg
660 mg
Coenzyme Q10
20 mg
Bilberry Fruit Extract 4:1(Vaccinium myrtillus)
100 mg
GreenTea Extract (95%) (Polyphenol 98%, EGCG 50%, Camellia sinensis L.)
30 mg
Proprietary Blend
Zeaxanthin 5% (OmniXan®), Astaxanthin 5% (Haematococcus pluvialis), Alpha Lipoic Acid (ALA), Grape Seed Extract (GSE) 95%
150 mg
Other Ingredients: Hypromellose, modified starch, rice flour, microcrystalline cellulose, malto dextrin, corn starch, magnesium stearate, sodium ascorbate, tocopherols, sucrose, sugar spheres, silicon dioxide, glucose syrup, ascorbyl palmitate, dicalcium phosphate, talc, and dl-alpha-tocopherol.
Contains Fish (Anchovy)
Extra Information: This product is gluten free and contains no milk, eggs, peanuts, wheat, brewers yeast, artificial sweeteners, flavors, colors, or preservatives.
Ocu-GLO™ is a trademark of Animal HealthQuest Solutions and the formula is patented.