Why Choose Ocu-GLO® Canine Vision Supplement?
Ocu-GLO® contains 12 natural antioxidants that work together to support your dog's ocular health. The three cornerstone ingredients are lutein, grapeseed extract, and omega 3 fatty acids. Lutein is an oxycarotenoid found in dark leafy vegetables, colored fruits, flowers such as marigolds, and egg yolks. It is readily bioavailable and is very important for retinal and lens health. Grapeseed extract is a potent proanthocyanidin antioxidant. Omega 3 fatty acids enrich the normal function of retinal photoreceptors. These cornerstone ingredients are combined in Ocu-GLO® with nine other carefully chosen antioxidants in the optimal concentrations and work synergistically to support canine eye health. It is critical for supplements to provide the correct amounts of the right ingredients for our dogs' ocular health. For example, popular over-the-counter human vision supplements do not contain adequate lutein for the health needs of the canine eye.

Animal Necessity Scientific Advisory Team (ANSAT)
The purpose of ANSAT is to form a collaborative group of multidisciplinary experts, who work with Animal Necessity to establish a unique knowledge sharing platform for veterinary communities across the world.
Carmen M.
Colitz
DVM, PhD, DACVO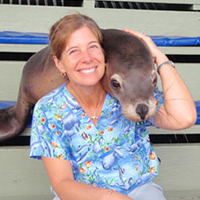 Carmen M. H. Colitz, DVM, PhD, DACVO, is a board-certified veterinary ophthalmologist with a PhD in molecular biology; she has extensively researched antioxidants in eye health, particularly the lens. Dr. Colitz discovered telomerase activity in the canine lens and is in private practice in Jupiter, FL.
Terri L.
McCalla
DVM, MS, DACVO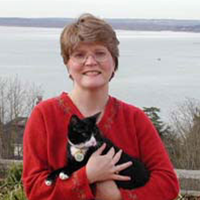 Terri L. McCalla, DVM, MS, DACVO, is a board-certified veterinary ophthalmologist in Bellingham, Washington (animaleyecare.net). Dr. McCalla has a Master's Degree in Veterinary Pathology.  Dr. McCalla has been in private specialty practice for over 25 years.
Johanna
Mejia-Fava
DVM, PhD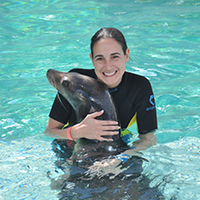 Johanna Mejia-Fava, DVM, PhD, has spent the past 10 years developing her expertise in marine mammal veterinary medicine. A graduate of Mississippi State University College of Veterinary Medicine, she also completed a PhD in Marine Mammal Ophthalmology, and completed her three-year Residency in Zoo and Aquatic Medicine at the University of Georgia and Georgia Aquarium.
Debby
Smith
RPh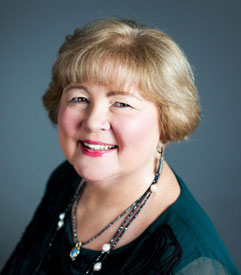 Debby Smith, RPH, has over 40 years of experience specializing in compounding supplements for both animals and humans. She owns Ballard Plaza Pharmacy in Seattle, WA.
Supplement Facts
How long will one bottle of Ocu-GLO™ last? This depends on the weight of the dog.
Weight of Dog

# GelCaps per Bottle

# GelCaps per Day

Size of Ocu-GLO™

# Days Bottle Lasts

10 lbs or less
90
1
Small Size
90
11 to 30 lbs
90
1
Med/Large Size
90
31 to 60 lbs
90
2
Med/Large Size
45
61 to 100 lbs
90
3
Med/Large Size
30
Giant Breeds
100 lbs +
90
3-4
(4 optional)
Med/Large Size
22-30
Supplement Facts
Administration Size: 1 GelCap
Units Per Container: 90 GelCaps
Active Ingredients

Amount per
Small Dog GelCap

Amount per Med/Large Dog GelCap

GLO™ Proprietary Blend (Grape Seed Extract 95%, Lutein 20%, Omega-3 55%)
175 mg
350 mg
Vitamin C (as Ascorbic Acid)
50 mg
100 mg
Vitamin E (as d-Alpha Tocopheryl)
25 IU
50 IU
Vitamin B-1 (as Thiamine HCI)
0.1 mg
0.2 mg
Vitamin B-3 (as Niacin)
1.2 mg
2.4 mg
Vitamin B-6 (as Pyridoxine HCI)
0.1 mg
0.2 mg
Folate (as Folic Acid)
20 mcg
40 mcg
Vitamin B-12 (as Cyanocobalamin)
2.5 mcg
5 mcg
Biotin
10 mcg
20 mcg
Pantothenic Acid (as d-Calcium Pantothenate)
1 mg
2 mg
Zinc (as Zinc Oxide)
3 mg
5 mg
Alpha Lipoic Acid
13 mg
25 mg
Coenzyme Q10 (Ubiquinone)
13 mg
25 mg
Lycopene from Tomato Extract
1 mg
2 mg
Green Tea Extract 40% ECGC
20 mg
40 mg
Other Ingredients: Gelatin, Glycerin, Beeswax, Lecithin and Soybean Oil.
Ocu-GLO™ is a trademark of Animal HealthQuest Solutions and the formula is patented.