Why Choose Ocu-GLO® Vision Supplement?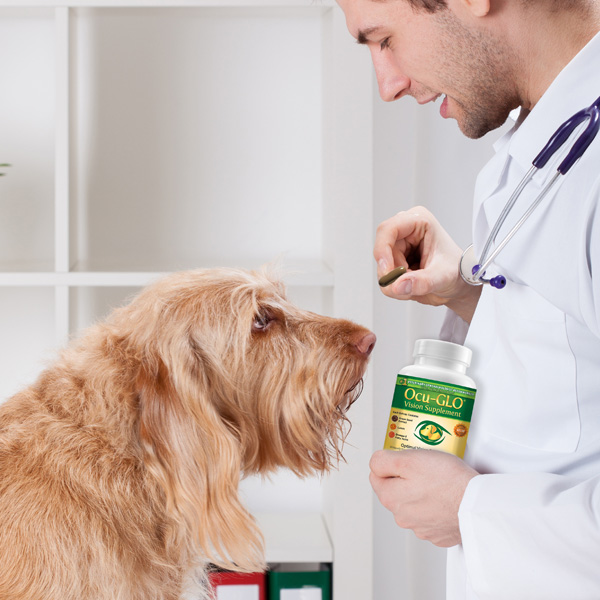 Ocu-GLO® contains a variety of antioxidants that work together to support your dog and cat's ocular health. Lutein is an oxycarotenoid that is readily bioavailable. The ingredients in Ocu-GLO® are in optimal concentrations for canine and feline eye health. It is critical for supplements to provide the correct amounts of the right ingredients for dogs and cats.

---
Which Ocu-GLO® is right for your pet?
Ocu-GLO® comes in a variety of types and sizes:
Ocu-GLO® also:
Contains 3Xs the Lutein/antioxidant potency of the other leading online supplement brands
Has no synthetic colors
Has no harmful or unwanted preservatives
Is made in the USA from US and globally sourced ingredients
View more about Ocu-GLO® here.
---
Two very important reasons that you can trust Ocu-GLO®
1) Designed specifically for dogs and cats by board-certified veterinary ophthalmologists and a compounding pharmacist with over 75 years combined experience in veterinary health.
2) Ocu-GLO® Vision Supplements are NASC-approved for superior quality, and their ingredients are made under good manufacturing practices (GMP) guidelines.
---
What the Pet Owners Are Saying


"Quito has become playful and willing to go on walks, and we are now living with a happy dog that can see the world, where the world and his life were once darkness."
~ Barrie and Marge G. and Quito

"I came across the website for Ocu-GLO®, and I was so excited to find a product that had been designed by experts in animal health and was meant for dogs and cats."
~ Tracie S. and Buddy

"We have had Taffy on Ocu-GLO® for at least 3 years and during that time her vision has not diminished completely."
~ Linda T. and Taffy